Training on Computer Related Industry Exposure Class for Students held at Daffodil International University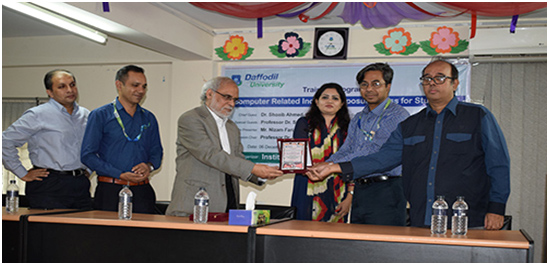 Prof. Dr. Muhammad Mahboob Ali, Director, IQAC, Daffodil International University handing over crest to Dr. Shoaib Ahmed, Former Adviser to the Caretaker Government of Bangladesh
Institutional Quality Assurance Cell and Department of Computer Science and Engineering of Daffodil International University jointly organized a training program on "Computer Related Industry Exposure Class for Students" on 28 November, 2016 at its city campus premises in Uttara. Dr. Shoaib Ahmed, Former Adviser to the Caretaker Government of Bangladesh graced the program as Chief Guest while Prof. Dr. Syed Akhter Hossain, Head, Department of Computer Science and Engineering, Daffodil International University was present as Special Guest. Professor Dr. Muhammad Mahboob Ali, Director, IQAC, Daffodil International University chaired the whole program.
Mr. Nizam Farid Ahmed, PMP, Assistant General Manager, Quality Assurance, Lead Soft conducted the raining as key Resource Person. Dr. Sheak Rashed Haider Noori along with Ms. Naznin Sultana, Assistant Professor, Department of Computer Science and Engineering, Daffodil International University were present as discussants. The training was arranged to enhance the knowledge of the students with real life experiences from industry expert and for the development of student's employability.
The Chief Guest underscored the importance of coordinated initiative by both the government and private sector to uphold the ICT industry as well as ICT-based education in the country. He also praised the initiatives taken by Daffodil International University in utilizing ICT in higher education. Special Guest also highlighted the need of IT-based education and shared the current situation practices of DIU in this regard.
The keynote speaker highlighted the issue of establishing the industry-academia alliances between DIU students and ICT industry in Bangladesh. The participating students received the clear scenario of ICT industry of Bangladesh as Digital Bangladesh is an integral part of the government's Vision 2021. This program also facilitated students in understanding ICT-induced employment opportunities. More than fifty students of DIU took part in the program. Among others, Faculties of Department of Computer Science and Engineering and IQAC officials were also present in the program.