Institutional Quality Assurance Cell of Daffodil International University organized a workshop on Auditing, Surveillance, Inspection and Monitoring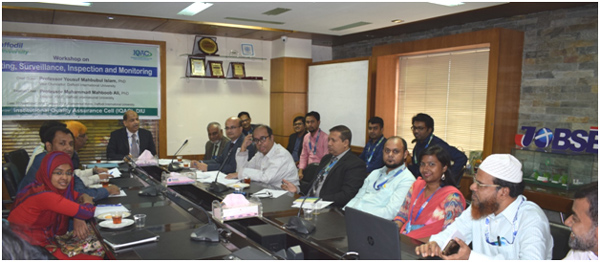 Vice Chancellor of Daffodil International University Professor Yousuf Mahbubul Islam, PhD addressing as the Chief Guest at the workshop on Auditing, Surveillance, Inspection and Monitoring
Institutional Quality Assurance Cell of Daffodil International University (DIU) organized a workshop on Auditing, Surveillance, Inspection and Monitoring on 27 November, 2016 at its own premises. The program was designed to make the IQAC related faculties and administrative persons including internal audit committee of DIU aware of documentation, auditing, inspection, monitoring of IQAC related activities of self assessment programs/departments.
Respected Vice Chancellor of Daffodil International University Professor Yousuf Mahbubul Islam, PhD was present in the workshop as Chief Guest. Director, IQAC, DIU Professor Muhammad Mahboob Ali, PhD made important deliberation in the workshop regarding the issue as Session Chair. Among others, Mr. Mominul Haque Majumder, Director, Finance & Accounts, DIU and Mr. Emran Hossain, Deputy Director, Finance & Accounts, DIU also clarified various aspects of financial queries by different SA departments.
Professor, A M M Hamidur Rahman, Dean, Faculty of Humanities & Social Science; Dr. Touhid Bhuiyan, Head, Department of Software Engineering; Mohammed Masum Iqbal, Head, Department of Business Administration; Dr. M Mohoshin Reza, Head, Department of English; other self assessment committee members and other administrative and IQAC officials were present in the workshop.