Workshop on "Self-Assessment Process for Departments in Second Phase" held at Daffodil International University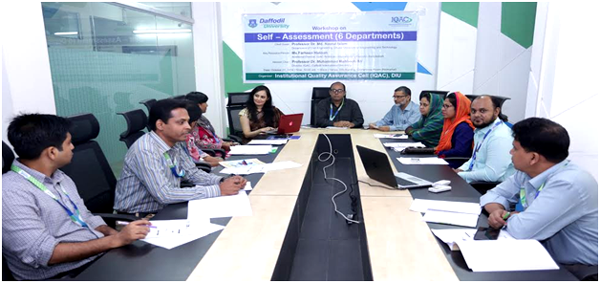 Institutional Quality assurance Cell of Daffodil International University organized a workshop on "Self-Assessment Process for Departments in Second Phase" on 27 October, 2016 at a conference room of the university. Professor Dr. Md. Nazrul Islam, Department of Civil Engineering and Director, IQAC, Dhaka University of Engineering and Technology graced the workshop as Chief Guest while Ms. Farheen Hassan, Additional Director, IQAC, American International University- Bangladesh facilitated the workshop as key Resource Person. Professor Dr. Muhammad Mahboob Ali, Director, IQAC, Daffodil International University chaired the workshop.
The Key Resource Person delivered a presentation regarding the detail s of departmental self assessment process under IQAC, ways to effectively complete the activities and implementing the same towards ensuring total quality environment in the respective departments to cope with the internationally recognized standard.
The self assessment committee members of five Departments (Textile Engineering, Electrical and Electronic Engineering, Commerce, Real Estate and Pharmacy) attended the workshop. The representatives of different departments took part in the discussion and raised various important points which were answered by the key resource person. Among others, IQAC officials were also present at the workshop.