IQAC-DIU Organized the Workshop for the Readiness of the Compliance of BAC
IQAC-DIU Organized the Workshop for the Readiness of the Compliance of Bangladesh Accreditation Council (BAC) for the programmes
The Institutional Quality Assurance Cell (IQAC) of Daffodil International University (DIU) organized a day-long event, titled"Workshop for the Readiness of the Compliance of Bangladesh Accreditation Council (BAC) for the Programmes"on 21 November, 2022 (Monday) at 10:00 a.m.

The workshop was conducted by the Member, Bangladesh Accreditation Council (BAC), Professor Dr. S.M. Kabir whereas the event presided over by the Director, IQAC, Professor Dr. A.K.M. Fazlul Haque.

About thirty faculty members (also part of programme SAC) of eight departments have attended the workshop. Respected Dean, FSIT; Dean, FBE; Dean, FHSS, the Convener, DIU Accreditation Committee along with his team and IQAC team were present in the workshop.

The workshop aims to give the comprehensive idea of accreditation process of BAC with hands-on experiences in two sessions.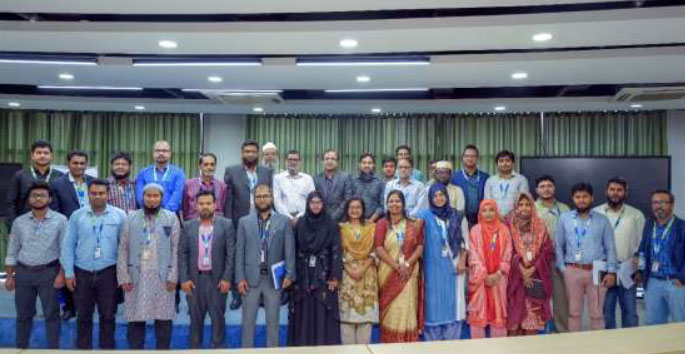 The key facilitator, Professor Dr. S.M. Kabir exchanges his insights and views on accreditation processes with the participants. He has talked on all BAC standards which are mandatory for accreditation of academic program in higher education. In the session, the key facilitator has also demonstrated examples of specific requirements of standards (Standards: 1, 4, 6, 7, 8) for two streams: Business and ICT. Professor Dr.Kabir has also talked on 'Scoring Rubrics' and also exhibited the 'Assessment Sheet' which focuses all parameters to be scored under each standards for accreditation of academic programme.

In both the sessions, he has facilitated participants to learn through group wise tasks (eight groups were formed) and he has provided the template (Documentation and Evidence for Compliance) and assigned the group tasks as demo to see their preparedness and self-evaluation, based on fulfilling the 'Standards of BAC'.

Emphasizing the role of IQAC regarding the accreditation process, Professor Dr. S.M. Kabir has also told that the departments will prepare the document to meet the accreditation compliance and IQAC will verify the documents. In regards to the'intent application', the department will go for the application process, soon after getting the positive report from IQAC.

The program was ended by a group photo session with the key facilitator.