IQAC Director Discusses on Quality Assurance in Higher Education at the New Teachers' Training Program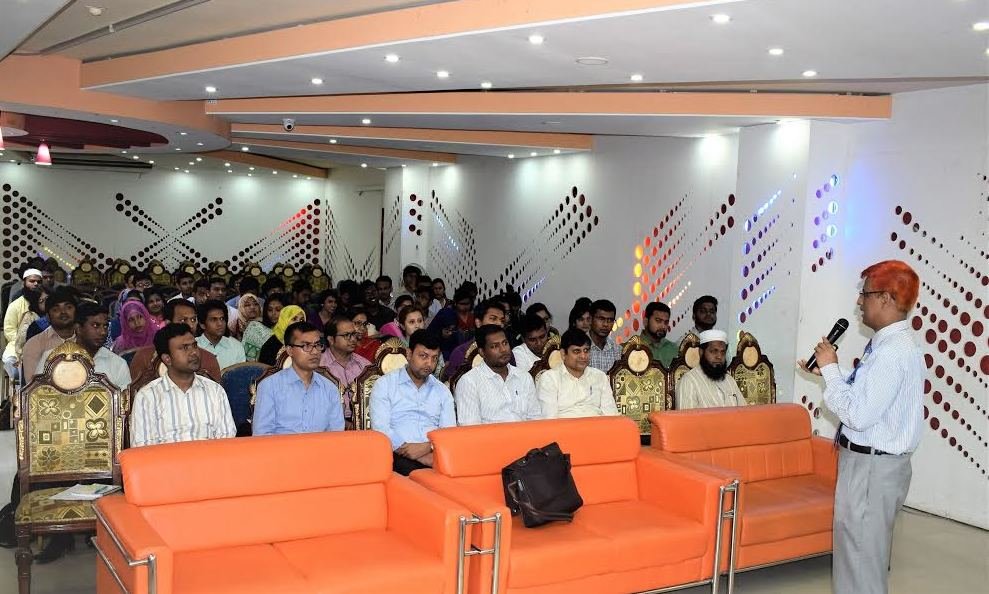 Professor Dr. Md. Fokhray Hossain, Director, IQAC, DIU is seen speaking on quality of higher education to the newly recruited faculty members
Institutional Quality Assurance Cell (IQAC) of Daffodil International University has been striving to enhance and ensure quality of higher education and its quality culture at the university since its establishment in 2015, stated by the Director, IQAC, DIU, Professor Dr. Md. Fokhray Hossain. He reiterated this while addressing at a training program for the newly recruited faculty members of the university on May 04, 2017. The training was organized by Human Resource Development Institute (HRDI), DIU for grooming up the new teachers with culture at DIU.
Professor Dr. Md. Fokhray Hossain, Director, IQAC, DIU, made a presentation with the expected outcome of learning about IQAC and its activities including the capacity building of the faculty members; making awareness about the importance of quality education in tertiary level and ways to become model teacher. In his presentation, he highlighted the activities on quality assurance in higher education through Institutional Quality Assurance Cell and existing quality culture as well as practice of DIU.
He also put emphasis and discussed the issues, like: IQAC & its responsibilities, National Accreditation Council (NAC), Areas of Quality education, Quality in Higher Education, Internal Quality Assurance (IQA), External Quality Assurance (EQA), Five Approaches in Considering Quality, Current Global QA Systems, Self-assessment process, SA process stakeholders, SA Criteria & Standards, Continuous Quality Improvement, Quality cycle, example of model teacher etc.
Among others, Professor Dr. Farid A. Sobhani, Director, Human Resource Development Institute (HRDI), DIU and new teachers of the university were present during the presentation.
For detail of the presentation, click here