A meeting on "Review of Self-assessments" of IQAC,DIU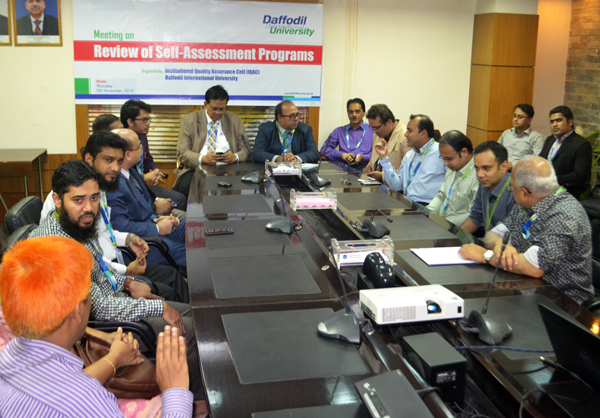 Institutional Quality assurance cell (IQAC) of Daffodil International University (DIU) organized a meeting on "Review of Self-assessments" at the Conference Room, DIU on 5th November, 2015 at 3:00 p.m. The meeting was presided over by Pr4ofessor Dr. Muhammad Mahboob Ali, Director, IQAC while Hamidul Haque Khan, Vice-Chancellor (Acting) was chief guest. The meeting was started with welcome address given by the Additional Director of IQAC, DIU Prof. Dr. Fokhray Hossain.
Amongst others, Prof. Dr.Ahmad Ismail Mustafa, Dean, Faculty of Allied Health science, Professor Dr. Engr. A. K. M. Fazlul Hoque, Registrar, DIU and Heads of nine departments related to self-assessment programs of first phase of DIU were also present in the meeting.
At the outset of the meeting, Director, IQAC, DIU highlighted some important issues relating to the self-assessment survey. The head of CSE Professor Syed Akhter Hossain , Ph.D , DIU gave a presentation on 'Software Monkey'. The meeting also discussed about need of retaining hardcopy of survey, activity plan of each dept., enhancing quality, effective utilization of budget and progress of self-assessment programs of nine departments. Among others Dr. A.K.M Fazlul Haque, Professor and Head, Department of Electronics and Telecommunication Engineering, Mohammed Masum Iqbal ,Head ,Dept. of Business Administration, Dr. Touhid Bhuiyan, Head Department of Software Engineering, Dr Md. Bellal Hossain, Associate Professor, Syed Mizanur Rahman, Head, Department of Journalism and Mass Communication, Farhana Helal Mehtab, Head, Dept. of Law,Ummey Kulsum, Head of English also spoke in this occasion.