Workshop on "Self-Assessment Program and Survey Procedure" held at Daffodil International University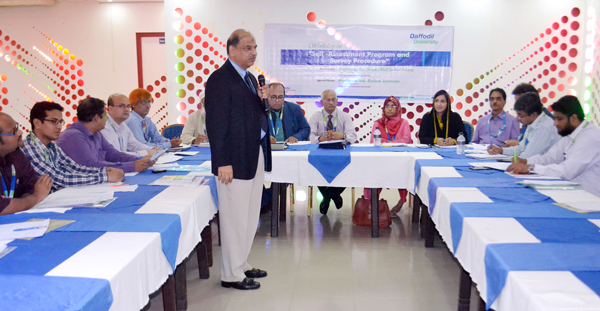 A workshop on "Self-Assessment Program and Survey Procedure" was held on 2015 at DIU Auditorium organized by Institutional Quality Assurance Cell (IQAC) of Daffodil
international University (DIU). Professor Dr. Muhammad Mahboob Ali, Director of IQAC, DIU presided over the workshop while Professor Dr. Yousuf M. Islam, Vice Chancellor, Daffodil International University was the Chief Guest. Prof. Dr. M. Golam Rahman, Pro-Vice Chancellor of the university was present as the special guest in the workshop. The objective of the workshop was to discuss about how to prepare budget for cost of self-assessment, conducting survey procedure, quality enhancement, good governance and course curriculum development.
Professor Dr. Md. Fokhray Hossain, Additional Director, IQAC, Prof. Dr. Ahmad Ismail Mustafa, Dean, Faculty of Allied Health Science, Prof. Dr. Engr. A K M Fazlul Haque, Registrar,Professor Dr. Syed Akter Hossain, Head, CSE, Dr. Touhid Bhuyan, Head, SWE, Prof. Dr. Md. Fayezur Rahman, Head, EEE, Prof. Dr. A K M Fazlul Haque, Head, ETE, Mr. Masum Iqbal, Head, Business Administration, Farhana Helal Mehtab, Head, Law Department, Syed Mizanur Rahman, Head, JMC, Umme Kulsun, Head, English and other members of IQAC of DIU spoke in the workshop. A total of 42 faculty members of Self- Assessment Committee attended the workshop.
Professor Dr.Md.Golam Rahman expressed his hope that Daffodil International University will become number one university in Bangladesh within shortest period of time through developing quality culture in education and teaching learning process.
Professor Dr. Yousuf M. Islam spoke on the importance of Self Assessment and Quality Assurance in higher education in this age of globalization. He emphasized on morality and social values and said that Daffodil international University believes in good quality education and he hoped that through establishment of this institute the university will be able to ensure and develop the quality education more. Faculty members of Daffodil International University should work together to institutionalize the quality culture in higher education, he added.