Performance Contract signing agreement ceremony to establish Institutional Quality Assurance Cell (IQAC) of Daffodil International University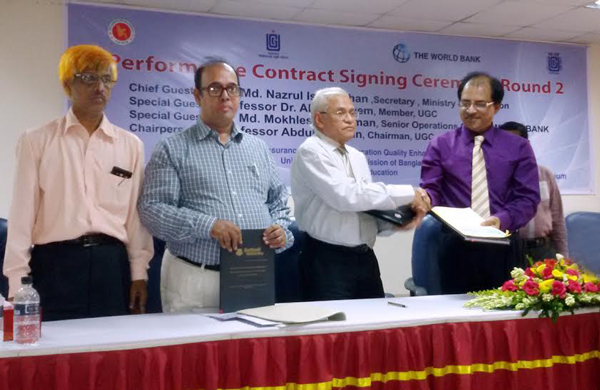 Performance Contract signing ceremony of QAP-IQAC proposals of round 2 was singed between University grants commission and 21 universities on 14 th June,2015.Among these universities Daffodil International university prevails.Prof.Abdul Mannan,Chairman of UGC presided over the program while Md.Nazrul Islam Khan,Education secretary of GOB was Chief guest.Dr.Gauranga Chandra Mohanta,Project Director,HEQEP ,Dr.Moklasur Rahman,Senior Operations officer ,World Bank , Prof.Dr.Mesbahuddin Ahmed ,Head,QAU, UGC spoke in this occasion.
On behalf of the Daffodil International University,Vice Chancellor Prof.Dr.M.Lutfur Rahman and Prof.Dr.Muhammad Mahboob Ali,Director ,IQAC of Daffodil International University , signed the agreement while on behalf of the UGC, Dr.Mohammad Khaled,Secretary of UGC signed the agreement.
Among others Quality assurance specialist of QAP Prof.Dr.Sanjoy K Adhikary, Prof.Dr.Fokray Hossain, Additional Director of the university were present.Daffodil International university is trying to maintain high quality education through continuous development and using digital education.