A workshop on "Awareness of Establishment of IQAC and Self-Assessment Program" was held on 28 July 2015 at DIU auditorium under the auspices of the Institutional Quality Assurance Cell (IQAC) of Daffodil international University (DIU).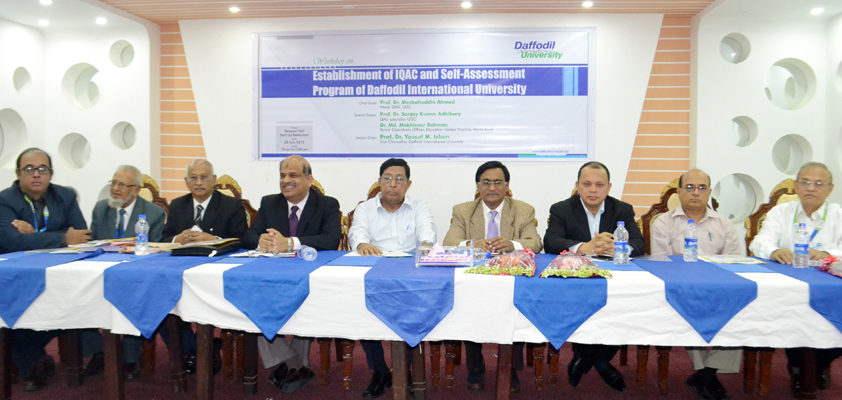 Professor Dr. Yousuf M. Islam, Vice Chancellor, Daffodil International University presided over the program while Professor Dr. Mesbahuddin Ahmed, Head, Quality Assurance Unit (QAU), UGC was the Chief Guest.
Prof. Dr. Sanjoy Kumar Adhikary, QAU specialist, UGC, and Dr. Md. Mokhlesur Rahman, Senior Operations Officer, Education Global Practice, World Bank were present as the special guests in the workshop. Md. Sabur Khan, Chairman, Board of Trustees, Daffodil International University was present as the guest of honour in the program.
Prof. Dr. Golam Rahman, Pro-Vice Chancellor, Professor Emeritus Dr. Aminul Islam, Professor Emeritus Dr. M. Lutfar Rahman, Professor Dr. Muhammad Mahboob Ali, Director, IQAC ,DIU, Professor Dr. Md. Fokhray Hossain, Additional Director, IQAC also spoke on this occasion.
Prof. Dr. Sanjoy Kumar Adhikary observed that without quality education,a nation cannot thrive in the competitive world.
Dr. Md. Mokhlesur Rahman argued that Bangladesh should uphold its national interest through quality education for which World Bank has been assisting the educational sector at the tertiary level.
Professor Dr. Mesbahuddin Ahmed, Head, Quality Assurance Unity (QAU), UGC, spoke on the importance of Self Assessment and Quality Assurance in higher education. He also said that Daffodil international University believes in good quality education and he hoped that through establishment of this institute the university will be able to ensure and develop the quality education more.
Professor Dr. Yousuf M. Islam stressed that faculty members of Daffodil International University should work together to institutionalize the quality culture in higher education. He expressed his hopes that Daffodil International University will become number one university inBangladesh within shortest period of time through developing quality culture in education and teaching learning process.
Md. Sabur Khan said, Daffodil International University has a perspective play to provide core competent human capital of the country. As such university has been taken important steps including social and physical infrastructure from the very beginning and want to create an unbelievable opportunity for the students of Bangladesh through using technological process and systems in all respects.
Total 75 faculty members including Treasurer, Registrar, Directors, Deans of the faculties, Heads of the Departments, Heads and members of the Self Assessment Committees attended the workshop. The ceremony was anchored by two faculties Farhana Noor and Khadiza Rahman Tanchi.