Additional Director of IQAC Participated at the Quality Assurance Training Program in Malaysia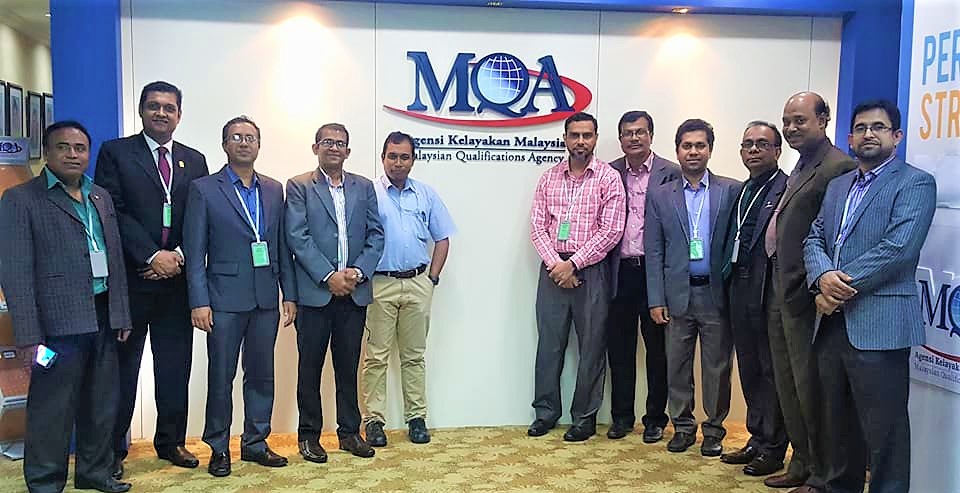 Dr. Sk. Abdul Kader Arafin, Additional Director of IQAC, DIU is seen with other trainees at the training program in Malaysia
Additional Director of Institutional Quality Assurance Cell, Daffodil International University Dr. Sk. Abdul Kader Arafin participated at the quality assurance training program in Kuala Lumpur, Malaysia during 07 January to 10 January, 2018. The objective of the program was about understanding the Quality Assurance (QA) system and practice in Malaysia. The training was arranged by the Quality Assurance Unit (QAU), under the framework of Higher Education Quality Enhancement Project (HEQEP), University Grants Commission (UGC), Bangladesh.
Dr. Rozilini Mary Fernandez-Chung briefly introduced the team about the Quality Assurance Training Program in Kuala Lumpur, Malaysia. As part of the training, Dr. Arafin along with other trainees visited a number of universities and Government institutions of Malaysia like: the University of Malaya (UM); Malaysian Qualification Agency (MQA); the Nothinghum University; the Ministry of Higher Education (MHEs), Malaysia; Putrajaya-the administrative city of Malaysia; the Asia Pacific University (APU); the University Putra Malaysia (UPM). The trainees learnt a lot regarding the functions of Quality Assurance cells of various universities, faculty evaluation mechanisms (three categories like: Research Based, Classroom Performance Based and Student Management Based), the activities and affiliation process of MQA and their planning to accreditate the overseas institutions through their qualification process, the Management Concept, QA culture, Self-Assessment related issues, challenges and implementation of proper decision for effective and efficient continuous quality improvement in higher education etc. Besides, they took part in different seminars where the participants highlighted the importance of quality education and identified the key aspects of strengths, weaknesses and challenges for implementation and proper running of IQAC for tomorrow's better education.
Dr. Arafin invited the high officials of the Malaysian Qualification Agency (MQA) to visit DIU during a meeting with them while they accepted the invitation and showed their willingness to visit DIU at their convenient time.